Wed 23 Jan, 2019 1:46 pm
Some of you might remember than one of my pastimes is salvaging and rebuilding old speakers. I need to build some new subwoofers for the stereo and as I can't afford to buy new drivers I am trying to use what I have in the shed. Does anybody here have any experience with digital signal manipulation and can advise me if the little DSP unit currently on sale in the USA is worth buying and playing around with?
https://www.parts-express.com/dayton-au ... o--230-500
This is half the price that I paid for my current EXO and has far more functionality built in and I wonder how reliable it is, as making warranty claims in the USA from here is a right Royal pain in the rear end as we all know
Tue 29 Jan, 2019 4:42 pm
I did some research and went ahead and bought the unit. BUT
I think it is interesting that buying locally through the WES systems subsidiary LSK was actually cheaper then buying in the USA and having it posted, mainly due to the way they calculated the Australia Tax and add on their own fees and collection charges.
There was only a couple of dollars in it but it was here in 3 days and not 2 weeks and fully warranted here; just in case something goes wrong
Tue 29 Jan, 2019 6:29 pm
Wow, I'm glad I came across this thread, I bought a Sure Electronics something something to do a stereo active two way crossover and a low pass for the sub almost two years ago.

It seemed quite powerful for the money but was pretty confusing to get working when I bought it, I may end up buying one of those Dayton units as it would just be a useful thing to have lying around.
I rebuilt a mate's DJ type speakers with Dayton drivers and they are ridiculous for the money, they were one of the only cheaper 12" drivers that would suit a ~1cu ft ported enclosure. The difference in sound quality and output between the factory items and the new drivers was amazing, hopefully a drunk mate doesn't melt the tweeters again, hahaha!
Wed 30 Jan, 2019 2:17 pm
MD, home theatre and general home audio gears these days have very wide price points, not sure self made system can match their quality and practicality at any of those price points. Apart from wanting to play geek, you are more likely than not to end up spending way more money and time. The audio electronic scene has changed so much since its hay days back then.
Wed 30 Jan, 2019 3:25 pm
I build speakers not audio gear. What I build would cost many many thousands of dollars retail , mainly because looks are not so important to me and most of the money in high end gear is in the cosmetics
But DSP is the cheapest and easiest way to get great sound from good gear
Amplifiers now are very different from speakers Speakers have always been the weak link in most Audio and I can built much better much cheaper DIY
I'm only upgrading the home Theatre because modern TVs need modern Pre-amps, hence the need for a new Yamaha [ well that and the old Rotel system is too weak at 70Watts a channel] pushing 200watts
Wed 30 Jan, 2019 4:17 pm
Here are a few quick pix of what my DSP has to work with.
The CV are good enough but I can't get them to go low enough even with DSP
They are being replaced with the old school 15inch woofers while I save for some real drivers
For home theatre we are not really fussed about SQ so long as voices are distinct and clear so the old school Sansui work well for that, although they have been rebuilt from scratch
But for the stereo I want the best sound I can get. Generally with speakers the drivers are about 10% of the retail cost of the speakers, those drivers cost about $350- per box, they mass about 45 kilos per box
Attachments

The old Subwoofers I am replacing Big ugly things
IMG_0749.JPG (143.23 KiB) Viewed 11064 times

Real Old School drivers but with new Kevlar cones
IMG_0747.JPG (138.23 KiB) Viewed 11064 times

Because these are so deep I have to built totally new boxes and they have to be down-firing to get the response low enough
IMG_0748.JPG (130.43 KiB) Viewed 11064 times

The loungeroom with both H/T and Stereo speakers
IMG_0750.JPG (96.39 KiB) Viewed 11064 times

Bult these a few years ago, Grandkids popped in the dust caps so I will need to replace these at some stage
IMG_0751.JPG (92.28 KiB) Viewed 11064 times
Wed 30 Jan, 2019 4:50 pm
I see.
Sat 23 Feb, 2019 3:31 pm
What software are you using to work out which drivers suit the enclosures you have?
Sat 23 Feb, 2019 4:41 pm
Hiking Noob wrote:What software are you using to work out which drivers suit the enclosures you have?
Jeff Bagby in Excel plus a few old text books and lots of trial and error. I tend to sealed boxes for the bass and they are much more forgiving that ported boxes
I'll be experimenting with DSP soon for the lounge room stereo
Sat 23 Feb, 2019 6:02 pm
How are you measuring the results of the system?
Sat 23 Feb, 2019 8:26 pm
photohiker wrote:How are you measuring the results of the system?
At the moment I am not At the moment I am relying on Ceciles golden ears my deafness is so bad. New microphones and tools coming after the new garage is built. Previously when living in Melbourne a mate was measuring for me at his shop in Reservoir [ now defunct] but using well known drivers and designs the results are usually OK.
Also sometimes near enough really is good enough, especially for party speakers. I need a new calibrated microphone or playing with the new toy [ the DSP] won't work all that well but new toys need to be acquired slowly
Speakers in the photos were made quite a while ago, before we started renovating
Sun 24 Feb, 2019 8:33 am
Photohiker I am very glad you asked that question. It prompted me to visit the site where I have been looking at measuring gear. They have a tiny little measuring mike that fits into a smart phone on sale at half price so I just bought one. I'll ask around for which phone app works best with the little unit but it may help until I have the money for the better gear
Sun 24 Feb, 2019 9:10 am
Cool. Is it ok, and how much does it cost?

Have been building a new preamp, a PASS amp, and in the process to build new small speakers with Scan-Speaker drivers. This is only for stereo with no video or tv in a different room. Will probably build some larger speakers later to be able to swap speakers in that room.
Sun 24 Feb, 2019 9:35 am
Here is the link
http://www.theloudspeakerkit.com/dayton ... compatible
No idea yet how good they are but calibration files are available for download for each mike. Never been able to afford real Scan-Speak drivers but if you want compact then ScanSpeak are a good driver
Sun 24 Feb, 2019 7:42 pm
Ok, will order the measuring mike. Be good to see how the speakers are working.

We have three speaker systems around the home, be interesting! Hope they work on my (now) old iPhone 6S
Mon 25 Feb, 2019 10:36 am
I'll be asking around as to which App I should get. Next few days I am moving garage contents to storage so it will be a while
Mon 25 Feb, 2019 12:27 pm
Lol. For the iPhone, saw the app was from Studio Six Digital: AudioTools. $30.99 and might need more $ in it..
Mon 25 Feb, 2019 4:21 pm
Moondog55 wrote:

Hiking Noob wrote:What software are you using to work out which drivers suit the enclosures you have?

Jeff Bagby in Excel plus a few old text books and lots of trial and error. I tend to sealed boxes for the bass and they are much more forgiving that ported boxes

I'll be experimenting with DSP soon for the lounge room stereo
You haven't tried WinISD at all? Works for my basic builds.
Mon 25 Feb, 2019 7:11 pm
Yes I have Win ISD loaded but I prefer Jeffs program so I can see what effect various shaping networks can have on excursion for various power levels at low frequencies
My old Pre-amp had parametric EQ [ which I really really miss] and it is interesting how so many drivers run into excursion problems at +6dB at 30Hz and a lot of my music has Infrasonic tones a low as 18Hz.
Actually this is why I need to make a pair of new subs to get more low down SPL
Sat 02 Mar, 2019 10:33 am
Ok, the iMM-6 iDevice arrived this week.
Then paid for the AudioTools for the iPhone. $30.99!
Then spent some time to get the iMM-6 calibration file. Downloaded it and put it on the iCloud, then able to put it on to the AudioTools on the iPhone.
It works! It should be a lot easier to do all that, but done now.
Not knowing how to generally test the speakers from the iMM-6 (or anything else) is there a simple way to get going?
Should I use one or both speakers together, How distance from the speakers to be testing it, and should be using Pink Noise, or something else?
Is the standard items inside the AudioTools all I should need, or is there any of them I should add to it?
Didn't have any Pink noise that day, but was able to capture the images: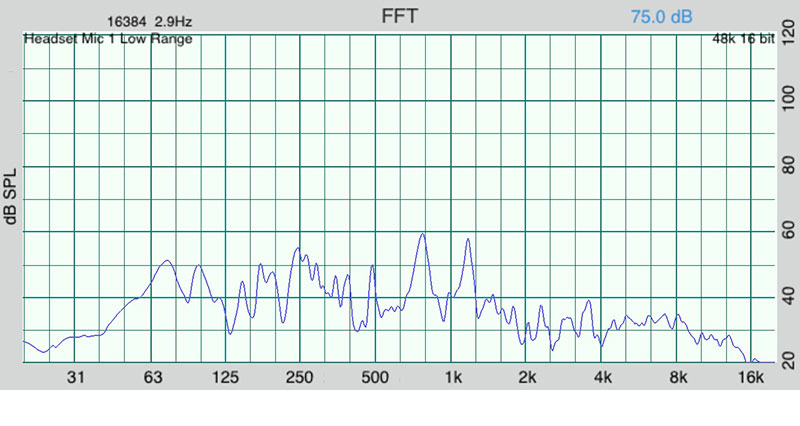 Sat 02 Mar, 2019 11:27 am
Download something that will allow you to do a full audio sweep from 20 to 20kHz
I used to use Audigy but in the new version the sweep function is hidden somewhere and I can't find it.
A metre from the speaker in question level with the midrange is usual.
One speaker at time and remember to record. Use a time that will exclude room reverb, a few seconds is too long I am told but this is new to me so I am definitely on a steep learning curve
If you can take the speakers outside and well away from walls and stuff measure outside, 15 metres from any hard reflective surface would be great. No room here and a tower is out of the question.
Just miking the speakers I am using for the computer the mike tells me that are not giving me anything below 100Hz which is what the arithmetic tells me but they "Sound" as if they have because of the harmonics, but an F10 of 80 isn't too bad for a 135mm driver [ Sansui speakers from around 1995] with the port fully stuffed so I'm loosing a lot of bass but they boomed sitting on the bookshelves being rear ported but 30Hz is a full 30dB down. All very interesting but meaningless in this reverberant room
Sat 02 Mar, 2019 11:34 am
What is interesting tho is the plot shows a classic 6dB per octave droop from the 126Hz down to 30 where the graph cuts. I have a few apps loaded now, and one of them is showing a huge but inaudible 3 Hz tone. Could be the refinery or the damned wood chip machinery but it isn't a train as it is constant. Also both apps are picking up the fan noise from the computer At 300Hz too so I need to take that from the sound I see on the screen. I need to find some 3mm patch cords and try this though my computer, I am getting a headache from the phones tiny screen
Sat 02 Mar, 2019 1:09 pm
Thanks for the info!
So something that will do a full audio sweep 20-20kHz.
Like this? from 0 Hz (DC) up to 24 kHz (with a 48 kHz Sample Rate)
https://www.audiocheck.net/audiofrequen ... _sweep.php
Sat 02 Mar, 2019 1:27 pm
Interesting That might work
I just checked ; keep the sweep and the associated recording to about 170mS apparently
All new to me too
Thu 21 Mar, 2019 10:24 pm
Finally finished building my new speakers, the Ellam98 MkII.
The Ellam is designed by Troels Gravesen in Denmark, and the crossover kit. Bought the crossover kit from Denmark and the Span-Speak drivers from AU but also made in Denmark. Drivers: 15W/8530-K00 D2904/980000
I built the speakers from some Baltic Birch I could buy in Adelaide! Spent a lot of time in the workshop getting the wood cut and setting it all up, then clear varnishing it. After that, had to get all the crossovers done, adding some heavy insulation inside the speaker and some other fabric to reduce the bouncing noise inside the speakers. The speakers are small: 200mm wide, 300mm high and 300mm deep. When all done, each little speaker is 10Kg!
Sound is excellent. More bass than I thought it would be!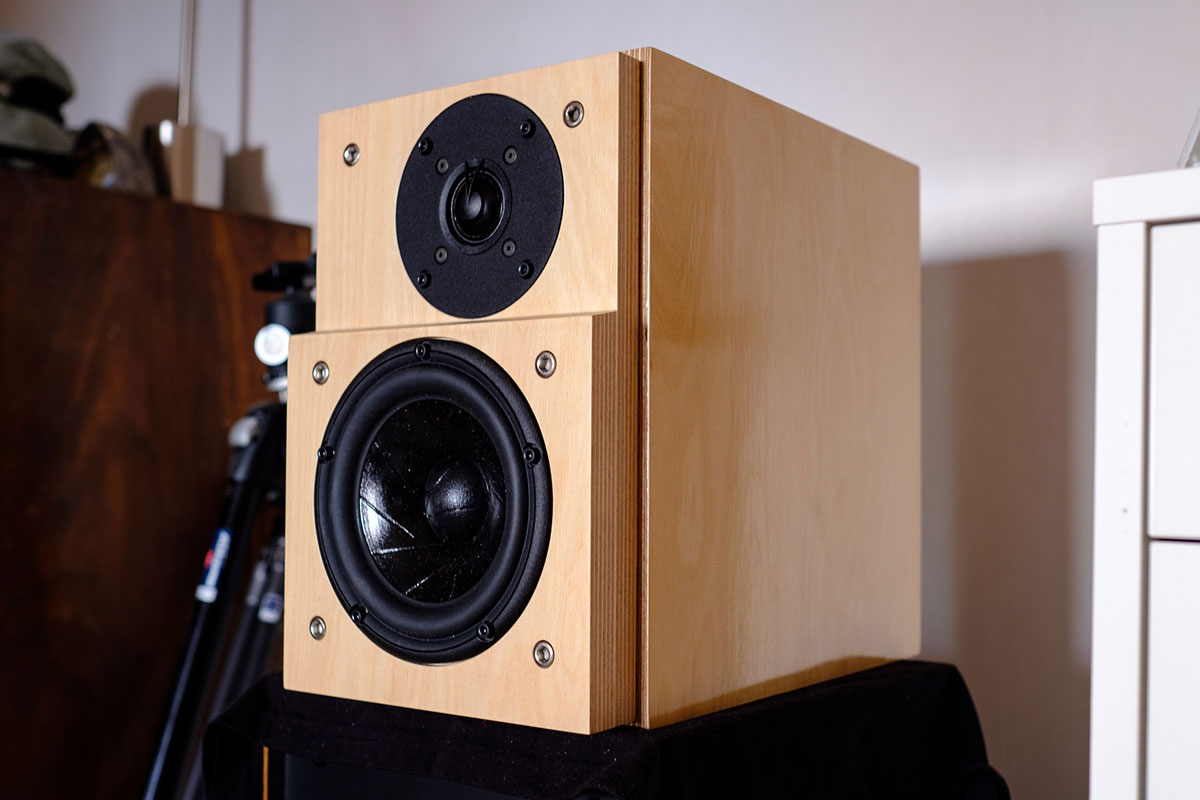 Fri 22 Mar, 2019 11:33 am
Nice. A good bit better drivers than the Vifa I am currently playing with
Thu 15 Aug, 2019 8:37 pm
Working on new bedroom speakers
Miss 11YO said they sound like real guitars. What did impress me tho is that the young femme is able to distinguish between louder and clearer. She commented that while the Sansui speakers were much louder [ they are by a full 6dB] my little mock-up was much cleaner and more clear. I was impressed actually that she was able to articulate this so clearly
It's a cheap woofer and even cheaper midrange but the driver I want to use as the mid is simply too efficient and needs padding down with an 8.6R resistor and I hate wasting efficiency as heat, so I used a much smaller driver usually used in micro systems
Attachments

IMG_1016.JPG (140.31 KiB) Viewed 6610 times
Fri 23 Aug, 2019 3:00 pm
Wow, looks like some nice woodworking and some great components.
What did you do to get the floating effect on the face panels?

I made a portable BT speaker for work, it has an APTX HD and whatever Sony's lossless audio is called receiver, then two two channel amplifiers to drive the speakers. Drivers are all Dayton, the enclosure is a ply fibreglass mish mash, is port tuned to around 80Hz, crossovers are 12dB passive with 6dB L-Pad attenuators for the tweeters, the battery is from my work 12V Milwaukee gear.
Sounds okay to me and the off axis response is fantastic compare to most mini speakers.

[attachment=0]IMGP3564.jpg[/attachment
Fri 23 Aug, 2019 5:19 pm
Nice little boom box
Sat 24 Aug, 2019 11:12 pm
Working now on something a little bigger
3-Way using all classic Vifa drivers
And a Boom Barrel subwoofer using all salvaged parts, HDPE barrel and a Clarion 12" subwoofer
Attachments

IMG_1047.JPG (142.7 KiB) Viewed 6255 times

Found on road in a dead box, not dead after some simple soldering
IMG_1045.JPG (141.92 KiB) Viewed 6255 times

200litre plastic drum rescued from the roadside
IMG_1046.JPG (139.93 KiB) Viewed 6255 times