My tent odyssey is finally over

Finding a light weight 3-4 season hiking tent long enough for me as a tall person (6'5" or 195cm) has been quite a trial...
Looked at, sat and laid down in several including the Mont Moondance I and II, WE Dart I and II, Exped Venus and Vela, MSR Nook and Hubba, OnePlanet Goondie I and II... and Hilleberg Akto/Soulo/Staika. They were variously too cramped, too complicated to set up, had insufficient storage space, poor ventilation... or just too expensive for what was offered.
I heard that Exped was releasing a 3 season two and three person tent range called the Gemini (based on a modified version of the now-superceded Southern Cross light shelter with improved end-to-end ventilation and better tie-downs) so I jumped at the chance of an introductory offer from a well-known online supplier.
During my research I found little in the way of independent reviews for the Gemini II, but I have always been impressed by the design and Craftsmanship of Exped gear.
The specs looked good on paper, but have been proven in my recent use of this very impressive tent.
220cm x 125cm x 110cm headroom inside means a great deal of comfort when getting dressed on a frosty morning or eating in the tent during bad weather.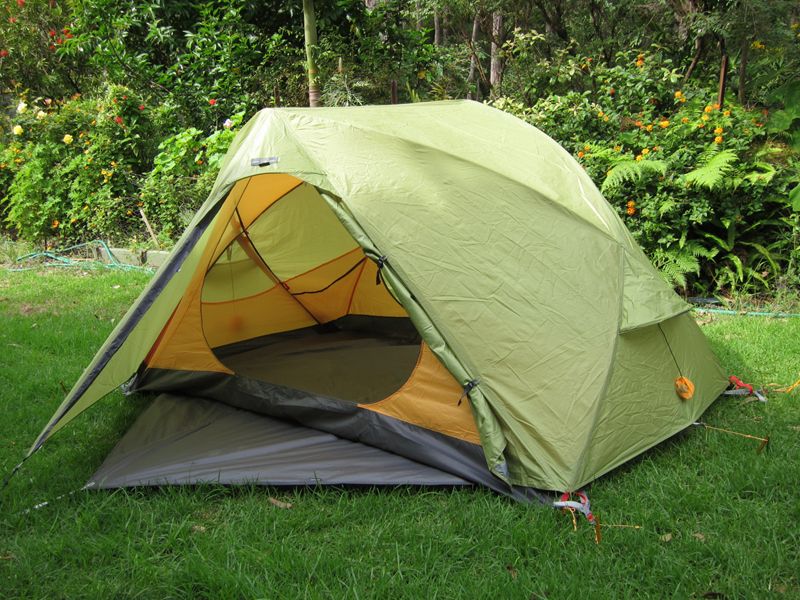 First time assembled in the back yard
I opted to also order the Gemini II footprint, and would recommend this option to others... fits well and keeps gear dry and out of the mud.
The Exped gear loft will fit the Gemini II loops, but I found it restricted overhead room way too much for me... I opted to rig up some shockcord between the loops provided to hang gloves and let my sodden NZ possum socks to dry out a little overnight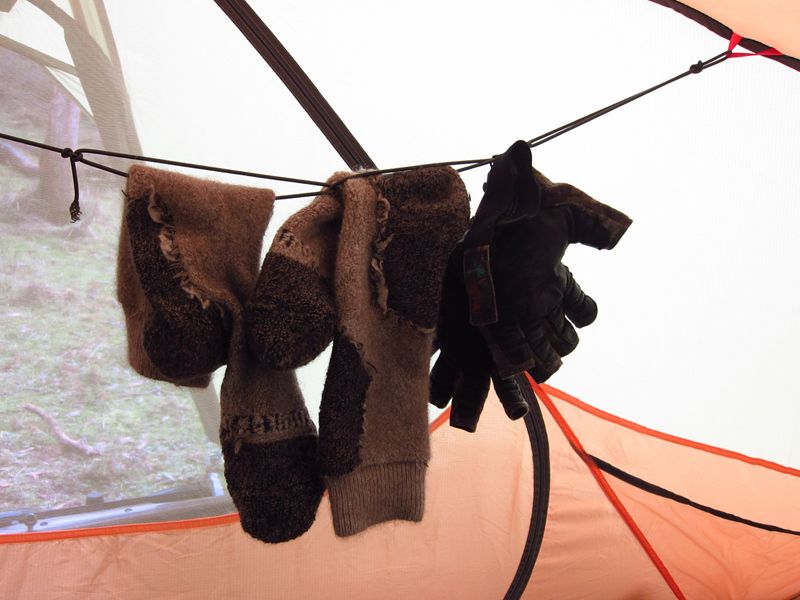 On first unpacking the tent, I was impressed by the well-organised colour coded stuff sack provided.
The green silicon treated nylon fly goes into the green side and the main tent (with grey floor) goes into the grey side.
Four equal length high quality shock-corded DAC Featherlight NSL 9 mm TH72M aircraft grade aluminium poles are included in a separate 3 compartment accessory bag.
The other pouches are for a repair kit (provided) and the pegs.
The heart of the Gemini II is a very clever cross pole orientation and jointing device.
Like many well thought-out design concepts, it is deceptively simple... yet very effective.
It enables all poles to be identical, eliminates the need for a separate transverse pole at the top of the vestibule and provides a tether point for additional guy lines (provided) if needed in extreme wind conditions.
Putting it Up
I found erecting the Gemini II for the first time solo was quite straight froward... all major connections are either numbered or colour coded.
The footprint is pegged out first (red tabs to the front) then the tent inner snapped on.
Poles are joined together and inserted in order to the numbered sleeves... once pushed home, the poles are tensioned and snapped into the special banana shaped gold anodised connector which handles each pole-pair.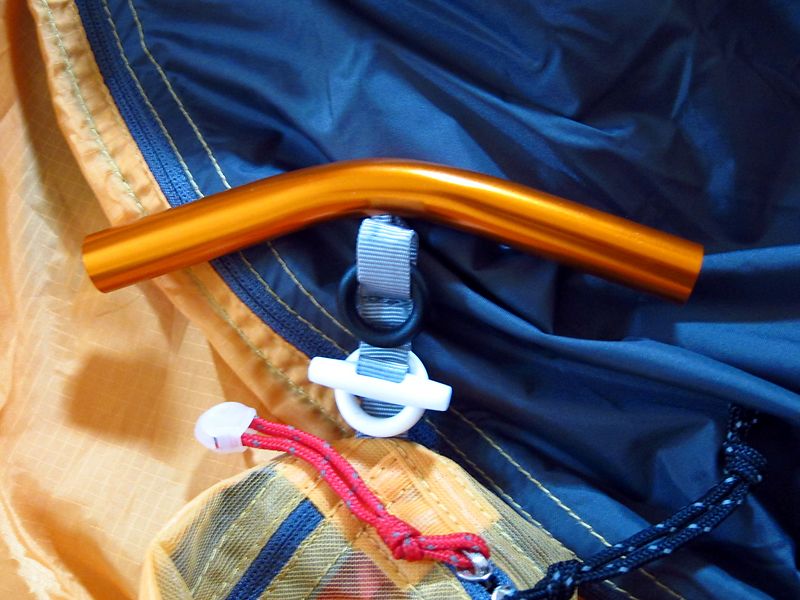 The tensioned poles are therefore curved into a complex shape and remain in place without further fasteners.
The gold connector can be detached from the tent inner and used with poles in sleeves provided on the footprint and fly to create a lightweight cross-tensioned shelter. Clever.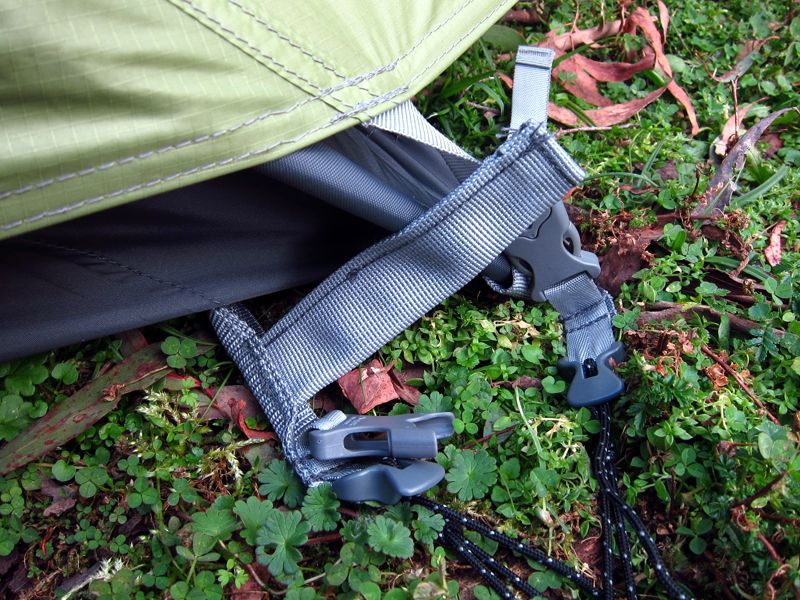 Once the tent inner has all the poles in place and tensioned, the fly is then clipped on (red tag to red tag) and final guy lines tensioned up.
The first time I unzipped the tent and sat in it I was hooked

Stacks of overhead room, and more than enough room to stretch out even inside a bulky winter weight sleeping bag (which added about 50mm each end)... and the twin vestibules are HUGE!
However, while very roomy indeed as a one-person tent (did I mention those vestibules are HUGE) I think it would be rather cramped as a two person tent unless you are on very friendly terms with your tent mate

Exped say it will fit two of their LW sleeping mats side-by-side, but for me I found it pretty much perfect with one 51cm wide sleeping mat and plenty of room either side for clothes or other gear.
Performance
I was able to give this tent a good test during a week up near the Victorian Alps in July 2012.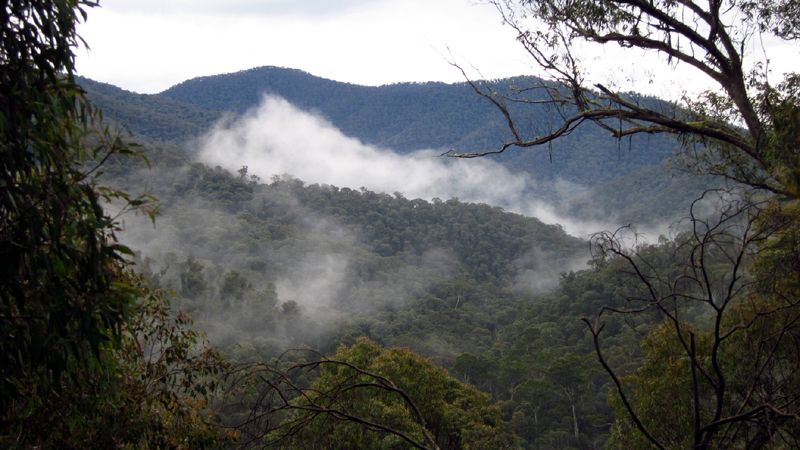 Weather was quite cold at first with a number of frosty mornings around -3 to -4C but then it changed quite suddenly to cold and WET

It bucketed down for the last three days... another good test of the Gemini II!
Ventilation in the Gemini II is excellent, with a large hooded insect screened vent positioned at each end of the outer fly (can be zipped closed if less ventilation is needed) and the fly being positioned about 70mm off the ground (it is a 3 season tent after all).
During the later part of my trip the wind increased and could be felt swirling around as it passed under the fly and through the tent... a little disconcerting after being used to 4 season tents with a fly extending to ground level like my old and much-loved Fairydown Altimate II.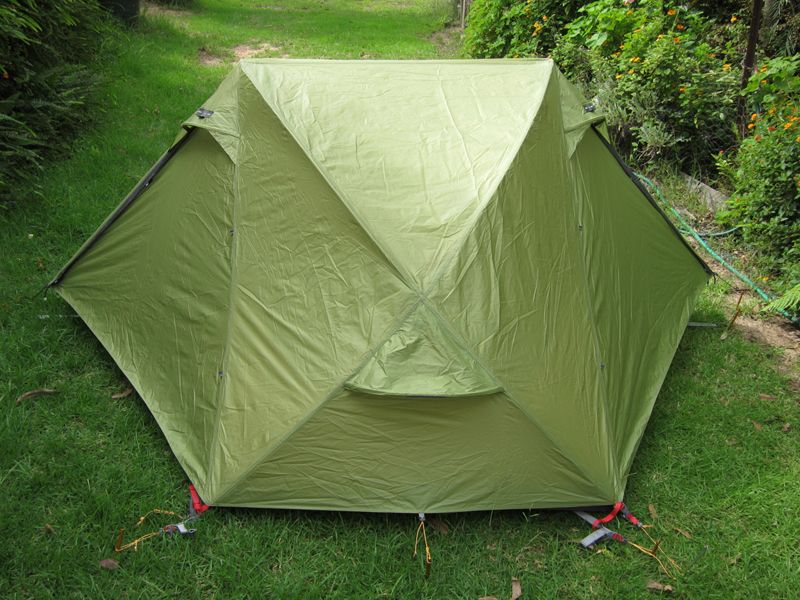 However, performance if both frost and and then heavy rain was flawless... the ice crystals dislodged from the underside of the fly hit the inner, melted and rolled off.
During heavy rain and wind not a drop of water entered the Gemini II... and despite my misgivings about the distance between the fly and the ground no wind-driven rain entered either.
Exped have put a lot of thought into the design of their tents, and its this attention to detail that makes them shine over several competitors.
These featured include:
Colour coded zips for the main entrance, one having a luminous end cap;
Yellow mesh keeper bags for the end guy ropes to keep them organised;
Reflective Dyneema guy ropes prevent late-night tangles when moving around the camp site after dark;
Tuck pockets in the roof to store the main mesh entrance panel for quick access when insect screening is not required;
Quick connect points for the fly door when rolled up... can be disconnected in seconds when rain threatens;
Colour coded and/or clearly numbered assembly points mean this tent can be quickly assembled in the dark or inclement weather;
Large mesh storage pockets in each corner for beanies, a torch, glasses... or a midnight snack

A repair kit is included with each tent (instructions, swatches of inner mesh and outer rainfly material and a pole connector tube)
There are one or two minor niggles that could easily be resolved as manufacturing running changes.
The footprint peg down points do not exactly match those required for the outer rainfly... so you cannot share peg points.
If you try to do so, the outer fly door area cannot be pulled taut enough.
I'm not sure if this is by design or simply manufacturing variation but it is annoying to have to carry a few more pegs than I expected.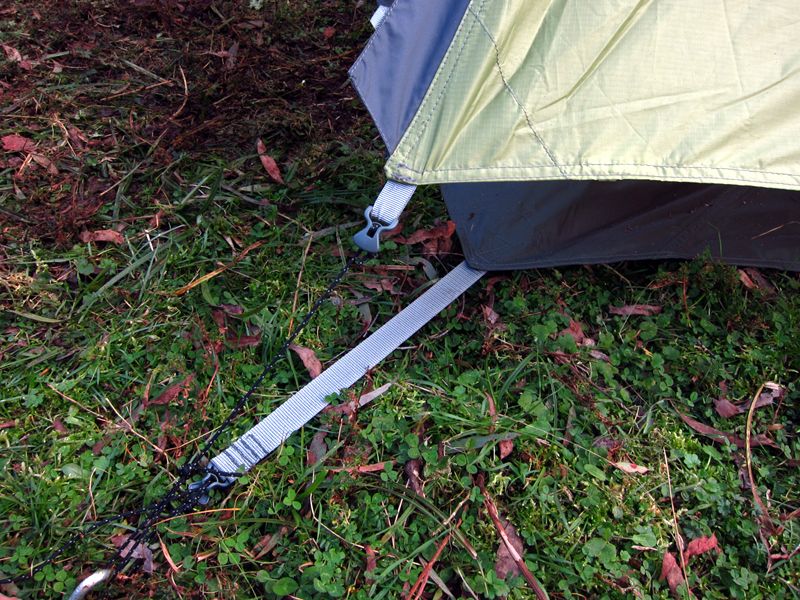 The distance between the end of the rain fly to the ground appears acceptable on level ground, but when the tent is positioned on a falling slope the air gap appears extreme... and cannot be reduced via guy line tensioning. Not sure whether this would have any real affect on performance because the waterproof inner extends quite high but I think it looks a bit odd.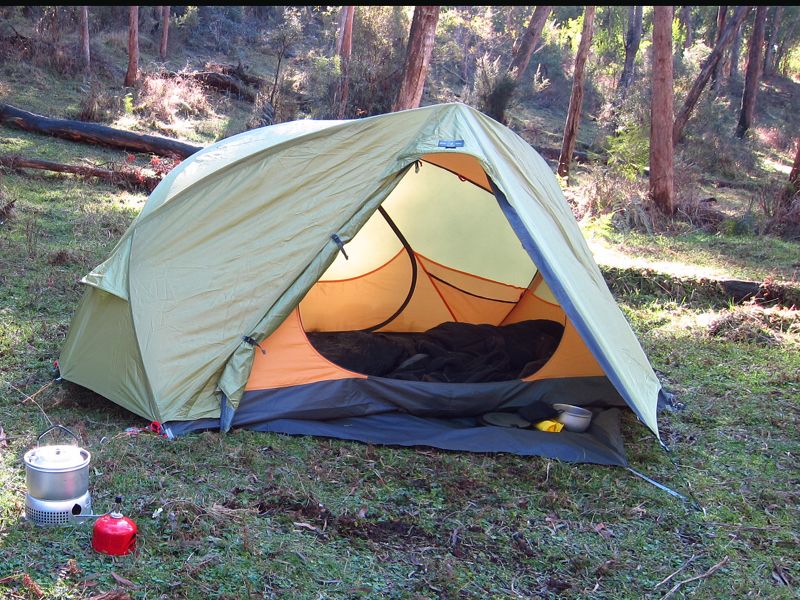 The secondary guy rope attached directly to the frame's cross-point for maximum strength but was simply a single length of Dyneema cord, not sufficient IMO to triangulate the load in high winds so I replaced both with twinned guy lines.
A small point which hopefully will be addressed by Exped quickly.
At 2.45kg all-up its pretty heavy for a single person tent, but the built-in roominess means not having to carry a tarp as well.
Overall, I'm very happy with my Gemini II... and would highly recommend it to anyone wanting a very high quality, well ventilated and roomy 1.5 person 3+ season tent.
Particularly if you are tall

Lots more info here:
http://www.exped.com/exped/web/exped_homepage_int.nsf