Forum rules
Ultralight Bushwalking/backpacking is about more than just gear lists. Ultralight walkers carefully consider gear based on the environment they are entering, the weather forecast, their own skill, other people in the group. Gear and systems are tested and tweaked.
If you are new to this area then welcome - Please remember that although the same ultralight philosophy can be used in all environments that the specific gear and skill required will vary greatly. It is very dangerous to assume that you can just copy someone else's gear list, but you are encouraged to ask questions, learn and start reducing the pack weight and enjoying the freedom that comes.
Common words
Base pack backpacking
the mass of the backpack and the gear inside - not including consumables such as food, water and fuel
light backpacking
base weight less than 9.1kg
ultralight backpacking
base weight less than 4.5kg
super-ultralight backpacking
base weight less than 2.3kg
extreme-ultralight backpacking
base weight less than 1.4kg
Wed 23 May, 2018 11:12 am
Looking to replace the current DIY guy ropes I use as additional attachment points for the tarptent. (sadly the tarptent only comes with two guyropes which is inadequate)
Anyone know any good sources?
I found
https://www.snowys.com.au/guy-rope-set-5pcs#details
these but they are out of stock until October.
Looking for strong and lightweight with sliders.
Wed 23 May, 2018 12:12 pm
I always use guy lines with a dyneema core for zero stretch - lots of os sources. I find a diameter of under 2mm is fine as the Dyneema core is extremely strong. These cords usually have a nylon outer sheath for ease of knotting and often a reflective threads for nighttime visibility. The last lot I purchased was on Amazon - Kelty Triptease Lightline (1.5mm diameter reflective) but have other versions from Zpacks, Extrem Texile etc.
For the cam cleats I have purchased them from
https://www.cleats.co.uk/
. I find the mini LIne-Loks CL266 work well for thin cords and they also sell some dyneema cord.
Wed 23 May, 2018 1:02 pm
We , Tarptent, don't supply extra guyropes or pegs because they would add to the cost to the consumer and many of our customers are very particular about what they like.
The reasoning is like this : why should I pay for those guyropes when I like .... and therefore the ropes that come with are no good to me.
of course there are also those that would prefer just to get something but in situations like this the manufacturer can't always win (if at all...)
BTW, the TT type guylines are the same as the Kelty Triptease
Wed 23 May, 2018 2:41 pm
The strength of the guylines isn't the main issue. It's durability that matters more. I use 1.5mm nylon cord when I'm willing to be careful to protect them from abrasion. Otherwise, the thin cord Mark F. posted about is good. Hilleberg provides something similar with their tents (in adequate quantity for the tent, thank you) that also works well. They sell it separately although it isn't the cheapest solution. The type of sliders that Hilleberg uses work nicely with thin cord. They're called micro linelocs or camcleats. They look like this: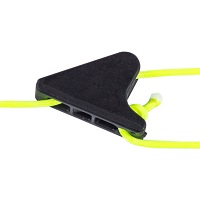 Thu 14 Jun, 2018 6:29 pm
I use old kite surfing lines. When I scrap a bar I generally end up with approx 150m worth. Lasts a very long time.