After about 4-5 months of walking in the French Alps, following 3 years in Australia and a couple of holidays in NZ, I'm actually quite amazed by the differences between these countries regarding the style of walking, the marking of tracks and roads, what's considered a "hard" walk, the quality of the tracks etc... And it's not in favor of France... I hope these few paragraphs will help you or simply interest you.
1) Marking : in Australia, I don't think I've ever been really confused by any walking route. It's always well marked : either big orange arrows, or brightly colored tape on trees, bushes, etc (like in Tasmania). Junctions are well indicated, and when you cross a 4WD track, it's rare to not find a sign with its name. Maps are good, all walking tracks are there. Faint secondary walking tracks are rare, it's either a good signed track or off-track. In France, it's totally different. First, most people think we have painted marks on everything (like the famous white and red stripes for the "GR", "Grande Randonnée"). But in National Parks, these are now banned (for the purity of the "scenery" whereas cattle still isn't banned, go figure...), so you don't get any marks at all, only cairns are allowed. And that brings us to another problem : in France, with 60 million people, and millions of tourists, there is rarely only one track. It's a maze of tracks ("sentier"), secondary paths ("sente") and cattle tracks that are just here to mess with you. To add to the difficulty, most walking guidebooks don't bother telling you about some tricky junction that may confuse you. And walking tracks can cross forestry roads (which are often marked, so you think it's the right way when it isn't). Maps are expensive (10/12 € for an IGN map) and unreadable (so much info you can't be bothered to use them). So what I use now is a free app, ViewRanger. It's got almost all the info the IGN map has, but for free. And if you want everything, you can buy the IGN layout for about 50 € for the whole country. So the way I do it, is check a nice walk on a guidebook or a blog, check on viewranger if the app has got all the walking tracks I'll be on, and go for it. Honestly, unless it's a good marked popular walk, you're bound to get a few wrong turns and even get lost without map and compass.
Winner : Australia, although some people like to "work" for finding the right path.
2) Getting there. First of all, it's very rare to have to take an unsealed road to get to the start of a walk in France, while it's usually the norm in Australia. Also, as for tracks, roads are quite poorly signed in France regarding walks. You will see "national park : this way" but then for the crucial last turns, nothing. Good directions or a GPS are then essential : there is no "official entrance" in National Parks, as people live everywhere in them, so it's never only one road leading to it. There's also no official "visitor centre", but several "information centres" dotted in villages and towns. And last but not least : you will NEVER be the only one at the carpark, even at 7 am in the morning. And at 10 am in summer, the carpark is full. You'll then see a line of cars parked precariously on the side of the road.
Winner : draw, some roads in Australia can be rough, but it's almost always signed.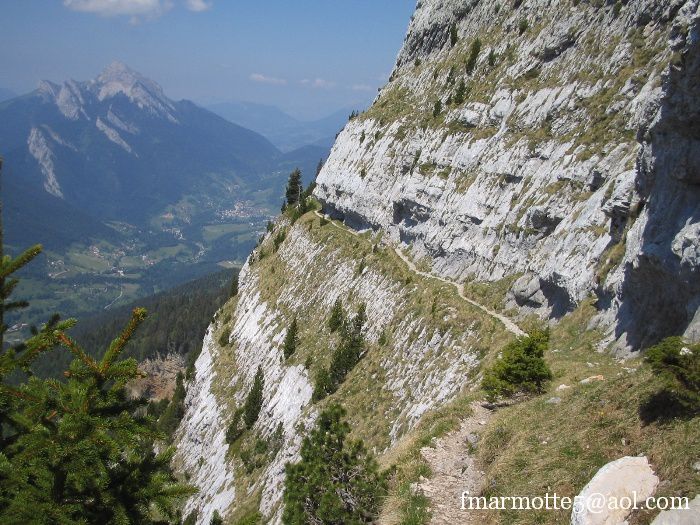 3) Danger. It's nothing new, the French have a casual way regarding dangerous things. The Aussies can be casual too, but they took their regulation from the British, so there are rail guards near cliffs, signs near dangerous drops or holes, etc... In France, forget about it. So much that in France, this :
http://imgur.com/rHqbV2D
is a walking track rated "medium". It's slippery, steep, narrow, there's a huge drop on the side, you have to cross that raging water fall with unstable stones, and there's no warning sign. It isn't that hard to walk on if you're careful and don't look down, but could you see the same track in Australia ? I'd imagine it would be properly built, with rail guards, a wooden bridge over the waterfall, or at least a warning sign. Those tracks that "hug" the side of steep moutains are called "sangle" in French, which is the word for the strap of a backpack. Several people fall from them every year, and in case you wondered, no they never sue the government (if they survive). But danger can come from unexpected origins too : first of all, the French mountains, including National Parks, are full of farmers. Cows, sheep and goats mostly. The most dangerous are actually the cows. They look peaceful, but give them some room. They won't move to let you go anyway, and since farmers don't remove their horns, you don't wanna mess with them. Now for the sheep, they are usually guarded by this fellow :
http://i-cms.journaldesfemmes.com/image ... -patou.jpg
. His job is to protect the sheep against wolves. So anything that come close to the sheep has to be inspected. Don't try to impress him, you'll lose. Don't walk towards him, don't run away, don't make yourself bigger with your walking pole. Just stay still until he identifies you or walk slowly aways from the sheep. Many incidents happen because people either get too close to the dog, or don't see this white big guy amongst white sheep. If you see sheep, the dog is around. So be careful. As for wolves and bears, there are some (and the former start recolonizing France, not just in the Alps and the Pyrénées) but you'll probably never see them, and the bears are a lot more shy than their American cousins, or the wilder more agressive bears you'll find in Romania and Bulgaria. You'll mostly see marmots, bouquetins or chamois (mountain goats).
Winner : Australia, unless you're a danger junkie.
4) Quality of the tracks. It's mostly linked to danger. But after many months in the Alps, I really appreciate the effort the Aussies and Kiwis put in maintaining their tracks. In France, there are so many, and so few employees to maintain them, that it's mostly rocky, slippery, and that the boggy parts have no alternative. Steps and ladders are very rare. Also, the Aussies are great at building sidetracks towards a great wooden lookout sometimes with a bench, info panel etc... In France, whether on the road or on a walking track, the lookout is the one you make for yourself. It is very rare to see one on a map, and when you find one, it never has an identifying name. I think that's a shame. Lookouts give us goals on a walk, or allow car tourers that may not be able to walk long distances to still enjoy great views. That's also why in France, a scenic road is mostly known by word of mouth. They don't sign specific scenic itineraries, unlike in Australia. That's why without tourist brochures and maps, you're absolutely lost.
Winner : Australia.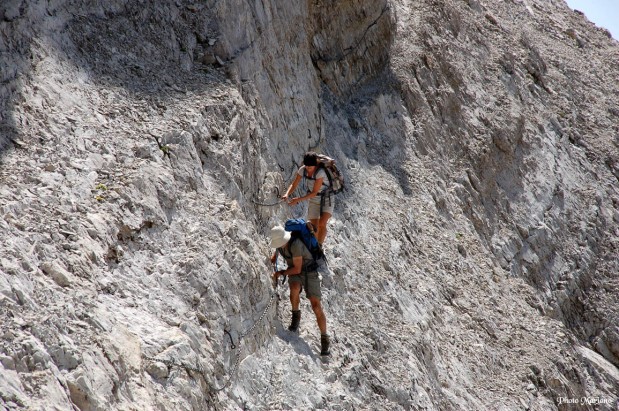 5) Difficulty. In Australia, I found that the main difficulties were scrambling, mud, the weather (whether it's rain or the heat that forces you to carry 4 L of water) and little annoying things (flies, spiky bushes). In the French mountains, the difficulties are mainly navigation, badly built dangerous tracks, and elevation gain. I think the worst elevation gain I've seen for an Aussie day walk is about 1100 m for Mt Bogong, and it's quite exceptional there. In French mountains, for day walks between 5 and 8 hrs, 1000+ m elevation gain is what you do on 2/3 of the walks. That means first that you're gonna need solid knees. The way up is mostly cardio, the way down is knee shattering. And a 1500 m elevation gain isn't necessarily rated as "hard", it all depends on the steepness of the terrain. Despite those scary elevation gains, it's not that often that you'll have to scramble rocks, at least not as often as in Tasmania or the Grampians for example. Don't forget also that in the Alps, most walks will start at 1500-2000 m elevation, so you can end up doing a 3000 m summit (some can be easy, like in the Queyras or Vanoise). If you're not used to it, that'll certainly affect your breathing. Don't expect to walk as easily as on sea level. And last but not least : snow and ice. Between 1000 and 2000 m, you usually still have patches of snow and ice in April and May. Between 2000 and 3000, you can have them until well into July. That's why the easiest walking is actually Autumn walking : great light, less people, no snow (unless you're lucky to see the first snow falling), still enough daylight to do long walks.
Winner : draw. Both countries have their type of difficult walking.
6) Scenery and wildness. In Australia, you can have a beach all to yourself at Christmas. The coastline is wild and beautiful, and on any walk, you're mostly alone. In France, the coastline is rarely wild, the mountains have people walking on them in snow, hail, or rain. You will always see people. The annoying ones are the trail runners, who will fly past you in a steep climb, or run down scree that you're carefuly negociating at a slow pace. There are the retired ladies, who, at 60+ years old, still go uphill quicker than you, and have seen so much that they can't be bother to enjoy the summit view more than a couple of minutes. I'd say that a third of walkers in France do it more for the physical challenge than for the scenery. But there are also the funny young blokes that smoke and drink but still need the mountains to feel better, the dad trying to inject his passion of bushwalking into his son's vein, or the crazy old guy who left his wife at the cable car but still will climb hours for a good view over a glacier. Glaciers : that's also what people will come to see in the Alps. NZ has maybe a couple of them, but there you'll have dozens. A lot of walks have 4000+ m summits looking down on you, with glaciers hanging around their sides. And a lot of glaciers can be reached easily at a little over 2000 m, with beautiful lakes at their feet. But these don't come without drawbacks. A lot of them, outside National Parks (or sometimes even inside), will have cable cars, ski lifts, helicopter rides, etc... It is quite rare to find a truly wild spot, or to find yourself alone. The last wilderness in Europe is in Scandinavia (including Iceland and Finland). The Alps are tamed, unfortunately. But they're still gorgeous. And the tameness means you don't have to be an expert to reach glaciers and great summits, and that you get all those organic cheeses and cured meats. Also in favour of France, we don't have pests. Or at least not as many as in Australia. We do have the American squirrel invading Europe, and some New World plants are spreading, but they're under control. Our main problem is bringing animals back : mainly the lynx, bear and wolf.
Winner : I'd say Australia. It doesn't have glaciers, but it has wildness still. France lost it a while ago in my opinion, although it's trying to bring it back.