Forum rules
SA, WA & NT specific bushwalking discussion. Please avoid publishing details of access to sensitive areas with no tracks.

Sun 01 Jul, 2018 2:25 pm

Hi! Has anyone been into the Gammons this year and if so, what is the water situation at Rover, Junction and Sambot waterholes? I was in Mainwater Pound a couple of weeks ago and the water level at Yackie WH was low and it had six dead goats floating in it. Also it would be very interesting and informative to hear from anyone who walked in the central Gammons in the dry years of 2003-2008. In which year and what was the water situation then for the waterholes mentioned and did Yackie WH actually dry up? Thanks very much.

Mon 02 Jul, 2018 2:55 pm

Mike, the closest I got to those places on a trip in late May was McKinlay Spring. No water there where I have seen a small amount on two previous visits. Not much either in Bararranna Gorge or other locations a bit further afield. Dead kangaroos everywhere and a few (not enough) dead goats. I guess you've probably seen that the BoM recorded total since June 2017 at Arkaroola is just c. 130 mm. Does not seem too promising for your destinations.

Mon 02 Jul, 2018 11:13 pm

Thanks for that 'Perry' I was surprised to see McKinley Spring dry last month as I imagined it was permanent only because I saw it with lots of water on 1968 but that was a wet year. I think that goats can outlive sheep in bad conditions because they break branches down to get wider food choice and I think that they are also better able than 'roos to process and digest highly fibrous food once all the better quality feed is gone. Just on goats, I read today in the paper that goats are now declared to be eradicated in Kangaroo Island and the goal is to rid the island of feral cats by 2030.

Thu 26 Jul, 2018 9:20 pm

I'm slowly starting to get the idea that SA is a bushwalking backwater. Hello! Hello! Is anyone out there?

Fri 27 Jul, 2018 12:32 pm

Love to give an answer mike, but last visit to the Gammons was 2010.
I have just done 4 days on the Heysen trail near Hawker last week and the area is having an extensive drought. Very sad for the locals.
What was surprising was that despite the drought there was some water flowing in small parts - small springs along the creek beds that emerge for a bit before disappearing again.
One local we spoke to was implying that some of this is a regular event with the winter season, so it may be temperature related or even delayed flows out of aquifers.

On my first walk in the Gammons in 2009, my son and I were carrying 8 litres each with the intention of turning back if we found water to be lacking.
We have been walking in various parts of the Flinders each year since then, but the Gammons are a big effort just to get to them.

Fri 27 Jul, 2018 1:49 pm

Drove around Mt Samuel track near Blinman this week. It's part of Alpana Station. Rough track but interesting views there.

On the way back from the area there is a water measurer device, and stopped to see if there was any there: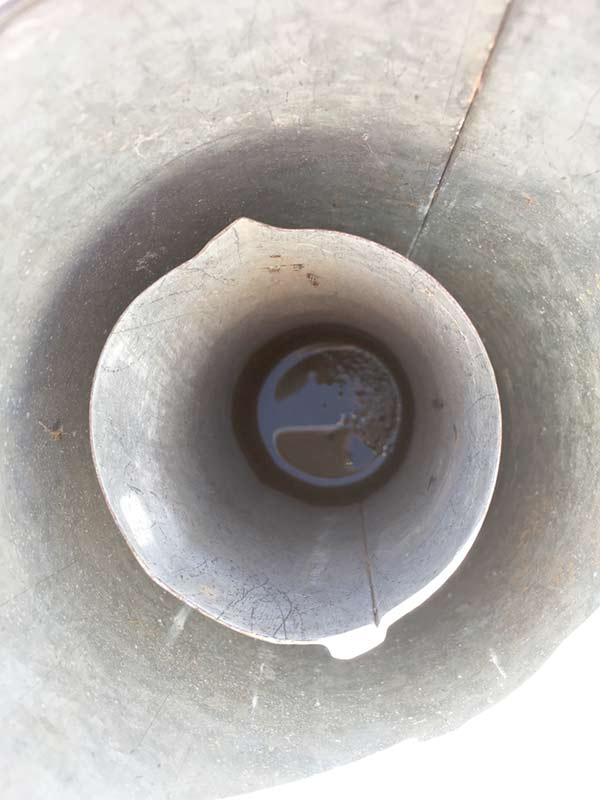 It is a long track and needs good 4wd capacity and good vehicle lift to avoid crushing it on the rocks. we did see a little bits of mud mostly almost dry. Today we are back home, but apparently there is a chance of 5mm rain in that area today. Cheers,
Thu 09 Aug, 2018 12:05 am
Thanks for your response eggs and ph! I'll be in the Gammons shortly with a couple of interstate walkers and will give an update on the waterholes once we get back to Adelaide. Cheers! Mike
Fri 24 Aug, 2018 1:27 am
Well I've just returned from the northern Flinders with walking companions from Hobart and Perth (contacted at this forum and meeting up for the first time in Adelaide) and can now answer my own question! Rover RH (top and bottom) is dry and Junction WH has a modest shallow pool only with clean water and no dead animals about. Despite the drought conditions in the area, we did find a small spring above 800 m elevation in a gully dropping down from the northern flank of Benbonyathe Hill into the Pound and several tiny springs in The Terraces. It's doubtful that these would have been recognized as springs in normal rainfall years. We were also told by Doug Sprigg last week that some of the waterholes on Arkaroola have dried out for the first time since the family acquired the property 50 years ago. unfortunately, dead and dying wallabies are commonly to be seen in the northern ranges.
Tue 12 Mar, 2019 6:24 pm
The Gammons and Arkaroola have not been as dry as they are now for over 50 years (or since records began in the area in the 1930s) and there's some evidence that even the most reliable of waterholes are currently dry. These include Junction and Yackie waterholes in the Gammons and Tee Junction WH on Arkaroola and if so, it will be the first time that they have been known to be dry. I think that this is very worthwhile recording as it has great implications for both wildlife and walkers. Hence I am going up there in 4-14 April to visit these and other waterholes in a series of 2-day walks and in which we must be self-reliant for water. If you think you would like to join me, see '
Gammons and Arkaroola, 5-14 April 2019
in 'Find Walking Companions...' and get in touch. cheers, Mike
Thu 14 Mar, 2019 2:24 pm
That was such an awesome trip last year Mike, alot of great memories! Many thanks for organising!
Very sorry to hear the state of the water situation has gotten even worse!

Seeing those poor roo's desperately digging for water and passing by ones barely alive just breaks your heart.
All the best for your trip. Hopefully it's not as dry as you believe.
Fri 15 Mar, 2019 10:46 pm
Thanks redrock, I'm glad you enjoyed it! We all did! Hey, did you see your photo in Tandanya Summer 2018 issue? It's in an article not shown in the contents page but scroll down the magazine and you'll find it. It's of you on the climb up to Rover Rockhole. Go to
https://www.adelaidebushwalkers.org/tandanya-magazine
- The article is on the decline in bushwalking party numbers going to the central Gammons since it peaked in the early 1990s and is based on an analysis of log book entries at Rover Rockhole over the past 50 years. Curious but Interesting! cheers! Mike