Forum rules
Posting large/multiple images in this forum is OK. Please start topic titles with the name of the location or track.

For topics focussed on photos rather than the trip, please consider posting in the 'Gallery' forum instead.

This forum is for posting information about trips you have done, not for requesting information about a track or area.

Fri 10 Oct, 2014 11:28 pm

Finally my first trip to Scandinavia. An opportunity rose to meet some friends in Sweden at Linköping, so I decided to see them and then take a solo 11 day trip to Norway. The plan was simple : day walks and car touring, as this is my first visit. Now, we're talking late September/early October in Norway. Possibly the quietest tourist season there is. A lot of walks are one way with a boat ride back (or the opposite) : you can't do that anymore, the boats only run in July/August. Now it's the end of autumn. The leaves are yellow and red, the first winter snow is not far away, some mountain roads are already closed. But nevermind that, I like being the only tourist there.

I started by driving up the Eastern side of Rondane National Park : very old mountains, so round summits, a bit of snow at the top, and some nice road lookouts. Speed limit is 80 km/h everywhere, but everybody seems to drive at 95, except in the speed camera sections, clearly signed. The weather was cloudy : it'd be like that for most of the trip. Clouds above 2000 m, frost during the night. In 11 days, I had only 2 days of sunshine, 2 days of rain, the rest was cloudy. So I decided to go see this famous prehistoric beast : the Musk Ox. They're famous for having been reintroduced in Dovrefjell–Sunndalsfjella National Park, after being driven to extinction in Scandinavia. Finding them is easy. It's a one hour climb to a nice toundra plateau, with some views towards the highest snow capped summits of Dovrefjell. You just have to look for the black shapes that makes you wonder "are these rocks or something else ?". Now, there are signs everywhere telling you not to go nearer than 200 m or they charge. Several fatalities have been recorded, even though there's only about 100 of them in the park. And indeed, after seeing them you don't wanna mess with them. They look peaceful, either lying down or eating grass, but every time you take a step towards them, they check you out. The 24x zoom on my camera barely got them into frame at the distance I was, which was about 100 m, after seeing some locals observing them from that distance. They're impressive, cute, and terrifying. On the way back, one of them gave me the evil eye and forced me to retreat. Along with bears and wolves, this is probably the only European mammal that'll make your spine tingle like that.

Last edited by

Hallu

on Sat 11 Oct, 2014 12:01 am, edited 1 time in total.

Fri 10 Oct, 2014 11:32 pm

The following day was worse than the previous one : still cloudy, but this time it was low clouds, around 1000 m elevation. Exploring Western Rondane was gonna be limited then. I also realized that a lot of mountain roads have tolls in Norway : the parks are free, but often you need to pay between 30 and 100 kr (5 to 15 $) just to take a rough gravel road. Rondane is toundra country. No trees, reindeer groups (which you almost never see, given the fact that they can sniff you 3 km away), strong winds (with the wind chilling factor it was probably -5°C that day) and... lemmings. I totally forgot you could find lemmings in Norway until I heard a screeching sound from the side of the track : it was a small yellow and brown rodent, on his back legs, shouting agressively. No bigger than a mouse, I only realized later that day what I had just seen. On that day walk I also realized that Norwegians aren't exactly friendly : maybe a quarter of the ones you meet will say hello back. Don't expect to chat with them as easily as with an Aussie bloke in the bush, even though they almost all speak English.

Fri 10 Oct, 2014 11:36 pm

The next day I couldn't believe my luck : sunny skies, and that incredible morning light that lasts untill 11 am in October in Norway. This was also the day I decided to walk the famous Besseggen ridge. Unfortunately, no boat ride in October meant I couldn't do the circuit and would have to walk up then back the same way. The car park is also 100 kr per day. Ouch... This is also when I realized Norwegian standards are not the same as French Alps standards : the walk, advertised as "quite difficult" is 750 m elevation gain, very well marked, with a wide path. This would be a familial walk in the Alps. Unfortunately Norway has also an issue with available info : never will you see a nice map with all the different walks you can take, and distance/estimated walking times. If you don't know about it beforehand, you can't do it. The NPs brochures are also quite horrible : just small maps with the tracks, but no distance, no walking times, no suggested walks. The classic Norwegian hike is going from refuge to refuge, or using public transport to go back. Circuit day walks are extremely rare, and not advertised. You need to make up your own. The ridge walk starts next up to the glacial lake Gjende and his beautiful turquoise waters. Even from here you can see the distant snow-covered range of Jotunheimen. The climb is steady and in open country : this means the views just keep getting better and better. And appart from a short scrambling section, and some slippery ice patches, the walk is nice and easy. At the summit, the 360° views are amazing : you can spot about 4 mountain ranges, all different : one has a silky snow mantle that makes it look like a long white cloud, another one is jagged like the Alps, another totally white in the distance. And then the view justifying the popularity : the turquoise glacial lake on the left of the ridge, and the deep blue river-fed Bessvanet on the right.

Fri 10 Oct, 2014 11:40 pm

Before reaching the fjords, I was about to enter possibly the most famous mountain road in Norway : the Sognefjellet. Reaching 1400 m elevation, which is a lot for Norway, it's magnificent : it goes through beautiful valleys, huge waterfalls, white mountains even in summer, wild lakes, distant glaciers, and you never feel it's too touristy. And it's worth mentionning for this country : it's free. No toll there. Being like the last week before the road would close, I only saw about 10 cars in 3 hours of driving. Plenty of hiking opportunities too, but I didn't have the equipment for snow walking. Nevermind, car touring is also great in Norway. Much better than in France, where lookouts are rare. Then I went North and deep into Jostedalsbreen National Park, to see one of the most famous glacial tongues of the largest glacier in Europe : Nigardsbreen. Easily reached with a 3 km walk from the car park, its clear and striking blue surprised me compared to the glaciers I'd seen in the Alps. You can get really close and touch the ice, but for a walk on the glacier, you need to book a tour. The turquoise lake at the bottom of the glacier wasn't bad either. The area also felt less artificial than, let's say, the Fox or Franz Joseph glaciers in NZ, which have barriers and huge warning signs.

Fri 10 Oct, 2014 11:52 pm

Now it was time to head towards the Western fjords. A good thing about the fjords : by good or bad weather, they're always exceptionnally beautiful. They can be cumbersome to explore on car though : the roads that hug the cliffs surrounding the fjords are very narrow, winding, and dangerous. Norwegians aren't exactly courteous on the road : they won't let you go through unless you show them you have balls of steel, and they never thank you for waiting to let them go pass (I mean they NEVER do : I stopped to let someone go maybe 20 times, not a single time did I get a thank you hand-wave or nod).
Nevertheless, there are some very nice lookouts. Two of them are famous : the Stegastein, which is a wooden platform with seemingly no end, as the barrier is a piece of glass, and Ørnesvingen, entirely made of glass and metal, with a beautifully diverted waterfall. The Dalsnibba lookout is less famous, as it's a long one way zig-zagging drive to get to the top of that mountain, with a wind so strong that I couldn't keep my balance once out of the car. But at 1500 m, you can see a lot from there : the Geiranger fjord, glacier covered mountains and wild cobalt blue lakes like Djupvatnet. It's quite a drive to get to all these lookouts, but it's worth it, especially since I didn't have the time to take the longer walks to the top of cliffs.

Fri 10 Oct, 2014 11:57 pm

Walks were for glaciers : the next one was Bøyabreen, really close but invisible from the road, with the added bonus of another glacial lake. It feels like a secret valley, and the nearby (and closed at that time) café is nicely hidden in the forest. Finally it was Briksdalsbreen's turn. And same thing here : a wild valley, powerful waterfalls, glacial lakes and the mighty blue glacier. Tourists ? Barely a couple of them, mostly unpleasant and scary looking Germans and Russians.

Last edited by

Hallu

on Sat 11 Oct, 2014 12:10 am, edited 1 time in total.

Sat 11 Oct, 2014 12:01 am

After passing next to more fjords, taking a nice car ferry (which is actually twice as less expensive than most road tolls...), was the desolated plateau of Hardangervidda. Something needs to be understood about Norway : the fjords are never taken by the winter ice, because of the gulf stream. But once you're inland, even an hour out of Oslo, it's a polar climate. We are after all at the same latitude than Alaska here. Hence Hardangervidda is cold, baren, and a popular skiing destination. Unfortunately, low clouds that day again, a freezing raging wind, and neverending drizzle. To finish, I went to Ytre Hvaler National Park, on the coast South of Oslo. Expecting wild islands and marine mammals, I was disappointed in seeing coastal towns, cottages everywhere, beaches filled with plastic rubbish, and no wildlife.

But that minor setback in the end will never let me forget my first time in Norway. And despite the expensive trip (2 € per liter for petrol, 100 € per hotel night minimum, with linen and cleaning not included, as it's the "tradition" in Norway), it was definitely worth it. But if I had to do it all over again, I'd choose to go in shoulder tourist season : June or September, to have more shops or boat-rides open and better weather. The October autumn leaves were beautiful, but not as striking as in Sweden. So it's not worth programming your trip in October for that alone. Norway, unlike most touristy countries, is definitely not an all year round destination : it's either winter for snow sport, or summer for hiking and car touring.

Sat 11 Oct, 2014 7:42 am

Interesting trip Hallu, thanks for the report.

I've been to Norway twice now, but not for hiking. It's a beautiful place, especially the further north you go imo.

What's this photo about?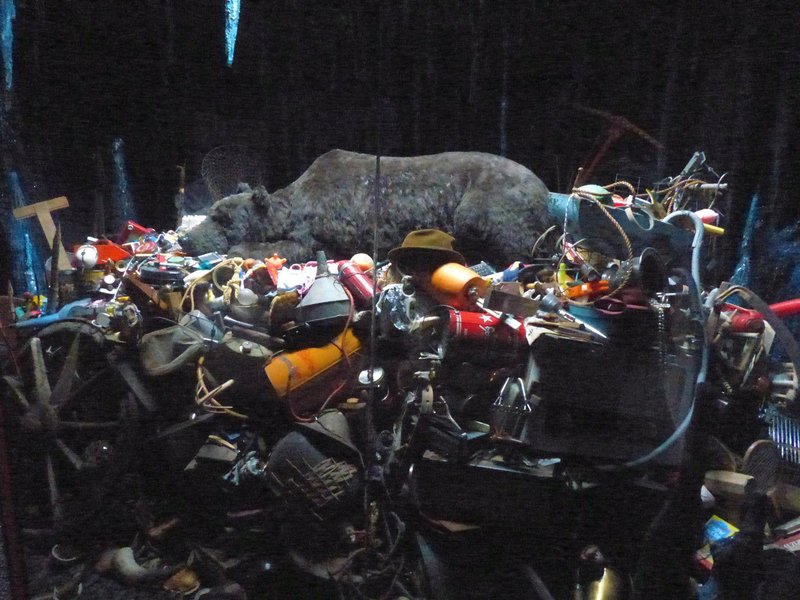 Sat 11 Oct, 2014 8:18 am
It's a piece of art in a cave by the side of a mountain road by american Mark Dion (
http://europaconcorsi.com/projects/2444 ... ne-The-Den
), weird stuff.
Sat 11 Oct, 2014 11:10 pm
Just fabulous. Thanks for posting Hallu.
Mon 10 Nov, 2014 4:35 pm
Some yummy stuff in there!!!!! Thanks.
Thu 12 Feb, 2015 11:41 am
Great trip report and excellent photos

Sun 06 Mar, 2016 8:47 pm
Thanks for this... it has been useful in helping me find more idea for my upcoming short trip during uni break! I'm actually surprised the south has so much nice things to offer, I was originally more focussed on the north, but this looks really nice!
Sun 06 Mar, 2016 9:58 pm
Must have missed this.
Great photos hallu
Mon 07 Mar, 2016 8:54 pm
sanloz11 wrote:Thanks for this... it has been useful in helping me find more idea for my upcoming short trip during uni break! I'm actually surprised the south has so much nice things to offer, I was originally more focussed on the north, but this looks really nice!
Yeah the Centre and the South still offer glaciers and nice mountains. People think you've got to go North for an Arctic climate, but drive 1 or 2 hours North of Oslo, and it's an Arctic climate. The fjords aren't taken by ice just because of the Gulf Stream. But the Gulf Stream warming influence doesn't extend to inland Norway, where the Hardangervidda plateau is really cold for example.
Thu 17 Mar, 2016 12:13 am
I'm doing Besseggen in September, hopefully I get a day like yours! Are there any comparable hikes in Australia to prepare? I've just done Mt Bogong, so I'm expecting similar to that with some extra bouldering.
Thu 17 Mar, 2016 8:19 am
There is a section with a chain bolted to the rock, but nothing too hard. It's rocky pretty much all the way. It's steep, but the steepest for me was the parking fee... The hardest bit was the ice on the track. But that was October, should be fine in September.