Hi All, I am looking for help with making my pyramid or bell tents with un-coated and breathing polyester woven fabric (umbrella fabric) and would appreciate suggestions from those who have 'gone before me'.
Sorry if there is an existing topic and I have just not been able to search properly for it. Please point me to such a post if I have missed it.
I am able to make strong, light and comfortable tents with silnylon (even if the stitching of the slippery silnylon is a bit ugly). They are 'walk-in tents for two and a tent stove and gear storage when the 300mm bell wall is deployed (as in the first photo below). They become a bomb-proof cramped stooping-walk-in tent for the survival of two under adverse weather conditions (as in the second photo). The only negative issue is the dreaded condensation inside on some nights. When it combines with buffeting winds, it is like having fine misty rain inside.
I should also add that I have no formal floor sewn into my tents (I use separate light groundsheets instead.) so that they can easily accommodate a tiny tent stove. They do have generous breeze/bug/snake/snow skirts around the whole base, so if any water should wick down the surface, it would not be an issue. For more details please see my website post on the tents:
https://timtinker.com/ultralight-tent/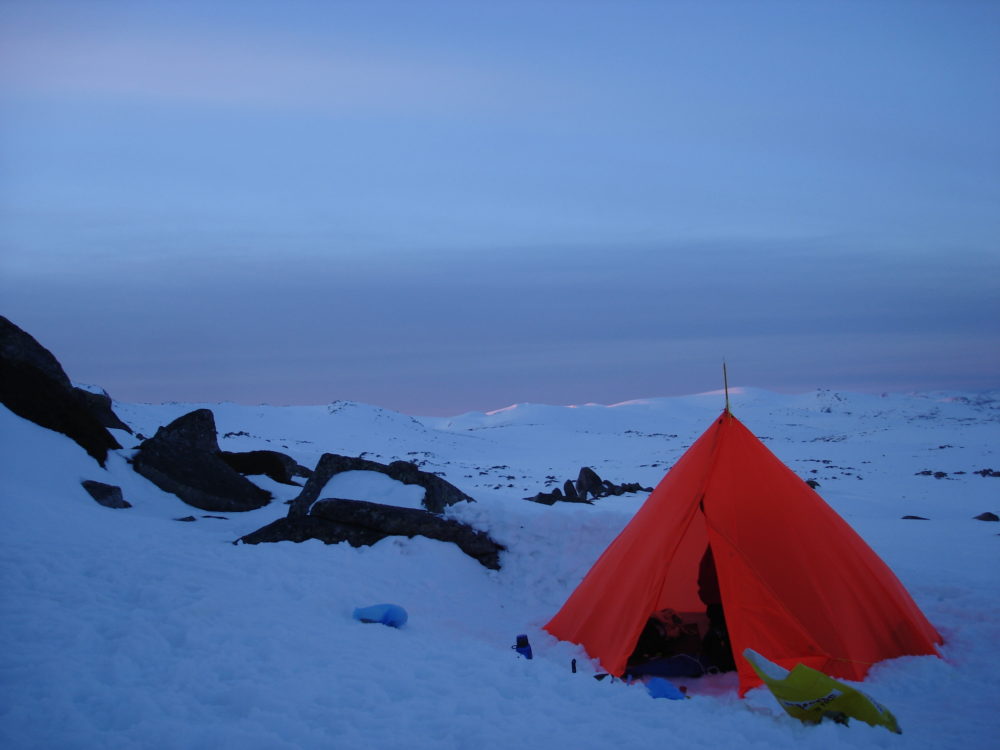 I have done a little side by side test of scale model pyramid tents that were pitched for about a week at home on my green moist lawn, where water transpiration was guaranteed. (sorry I can't find the photo). Both had no floor, one was made of silnylon and the other of un-coated polyester (fashioned from an old cheap but colourful umbrella).
They both shed the rain well with no apparent leaks. Each morning, the silnylon tent was always coated with much condensation inside and the polyester tent was always dry. Even when I put a large dinner plate of water at the bottom of the polyester tent, there still was no condensation.
My question is: Can polyester without waterproof coating or silicone rubber impregnation provide a waterproof shelter without condensation issues? I would treat the seams/stitches with diluted acetic cure RTV silicone rubber to make polyester/cotton sewing thread repel water.
I would like to hear from others about their experience with using un-coated polyester for single skin tents. Tim