Mountain Musings - Latest edition
February 2023
: Issue
57
Webpage
Online Flipbook
Download ePUB
Download PDF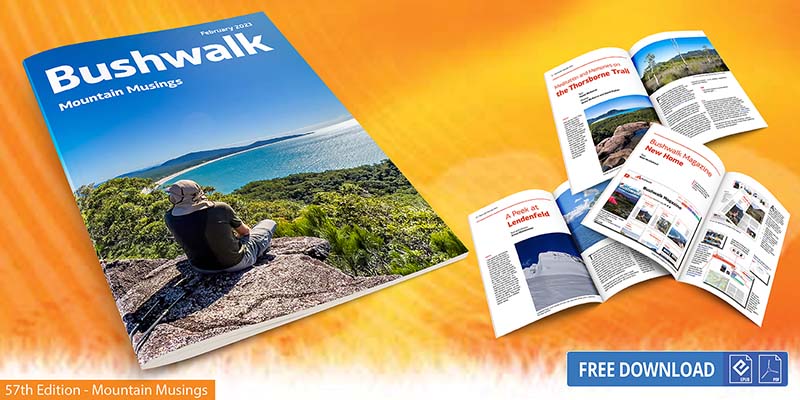 Check out our
new magazine website
. Browse more than 700 articles in the entire catalogue by edition, author, topic or location.
There are still some bugs and performance things to work out (e.g., not all pages fit well on mobile yet.)
But please let me know how I can make it better for you.
Another great edition:
*
Bushwalk Magazine
New Home
*
The Thorsborne Trail
Meditation and memories on trail
*
In the News
February 2023
*
A Peek at Lendenfeld
A bittersweet feeling
*
Videos
February 2023
*
High Times in the High Country
A hut adventure with kids in the Brindabella
*
The Other Side of Halls Creek
Natural wonders it hides
*
2023 Calendar
Get ready to be amazed
*
Photo Gallery
Vistas of this beautiful country
*
How far is it?
It's not just about GPS accuracy
*
Meet the Eastern Bristlebird
Read about this under-appreciated bird
A big thanks to our fabulous contributors. Please let us know what you think - feedback and suggestions are always appreciated.
Stay safe -- Happy Walking
Matt