So this is going to be a bit of a head to head shoot out of a bunch of lightweight knives that I've used, I'll do my best to describe my uses, and give a general idea of pros and cons for each. For the Victorinoxes, I won't do a full tool review, more just the highlights so you can get an idea of how they might work for you, as there are many variants, I'll only cover the ones I own, but mention the close versions. Weights are as they are pictured, so some have cords or tags, fixed blades will be with sheath. I'll do my best to give a general retail price.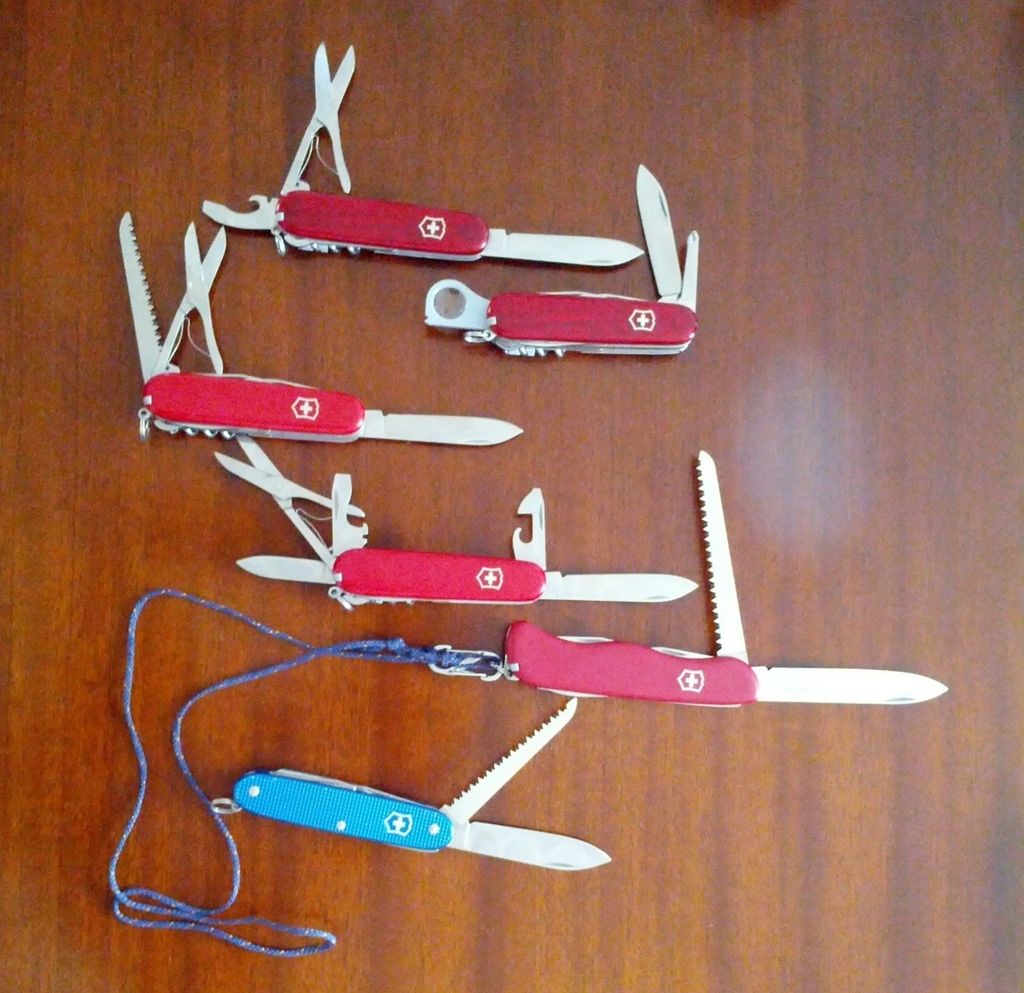 Multi-blades:
Vic Compact 63.75g 45-65$
One of the simplest of the 94mm Swiss Army Knives (SAK) pretty much just blade, combo opener and scissors. But the other tools have their uses. With the Plus scales you also get a pen, straight pin and the usual toothpick and tweezers. The compact tends to retail higher than other larger SAKs as it contains more specialized parts that are not found on other units, the nail-file hook is exclusive, and the combo opener is not as common.
Vic Explorer 102.04g 55$
There are a few versions of the explorer, and if it can be found used, the version with the gray plastic magnifier is superior, as the magnifier lens is glass, rather than plastic with the newer one. The newer one is functional, but does not provide a clear enough focus for fire-starting by most reports. A good layout of tools for a four layer SAK, including a philips driver which may be helpful for gear repair.
Vic Huntsman 97g 40$
One of the most comprehensive and cheapest SAKs available. Scissors and a saw solve a lot of problems. I would consider the huntsman to be a true survival knife. With a little thinking, there are few problems you could not solve effectively. Sure you won't be cutting down a gum tree, but it covers a lot of bases. Like the explorer, some find the 4 layer SAKs to be too thick for tight pockets. Best for pack carry.
Vic Climber 82.2g 35$
Huntsman minus the saw, for those who don't think they will be hitting any woodwork on the trail a good choice. Cheaper option than the compact, for a small weight penalty. The super tinker is a variation, replacing the corkscrew with a philips.
Vic Rucksack 108g 55$
Much larger than the others, the Rucksack comes from the 111mm range. Larger saw, and larger locking blade make this a good choice for those knowing they will be doing tougher cutting. The lock in this case is more of a safety than a true lock, however it is very effective. Slightly lighter than the trekker, which has a more robust liner lock, and a heavier duty bottle opener/pry tool.
Vic Farmer 85.64g 45$
From the Alox (aluminum scale) range, the farmer has a thicker blade than its slightly smaller cousins, and an inline awl. For those who don't feel the need for the toothpick and tweezers, this one is a good robust option at a civilized weight. the awl also makes a great ferro rod scraper.
Leatherman Skeletool CX 144g 110$
Simple tool providing pliers and a screwdriver bit holder, as well as a very decent knife blade. The jaws are not as robust as a larger tool, but more than enough to help push a needle through tough material or pull a tent peg. pocket clip and carabiner carry options. Main plus is ability to carry specific bits for specific gear. My skeletool has been modified by removing some of the blade tip to make it more suitable as a rope rescue knife. Cheaper versions feature a semi-serrated blade.
Style CS 41.5g 40$
Great little scissors, tiny blade that can be turned into a scalpel. carabiner to add it to a keyring or easily keep it stuck to a pack. Tweezers are an added bonus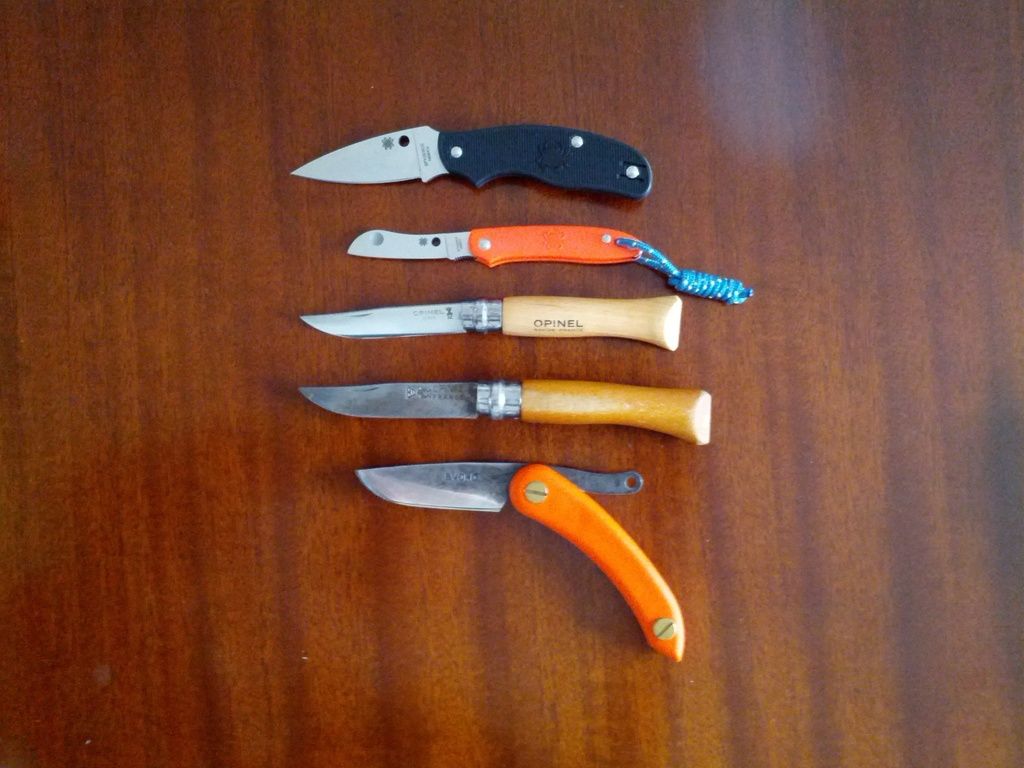 Folders:
Spyderco SPY-DK 53.2g 80$
Light, great slicer. This spyderco is part of the slipit line which means it has no lock. The blade stops firmly half way, and at the open position. Due to being non-locking it is realistically a penknife, which may help for carry in certain places. A non-locking folder needs a little thought, but I don't think any more than any other. Ideal for food prep, and the tip is great for those who think needles are too small to dig splinters. Not as rust resistant as the victorinox knives, but still very good. only concerns would be around salt water, and simple daily cleaning would be enough to prevent any more than surface discoloration.
Care should be taken when purchasing as many spyderco knives are currently being counterfeited, and the quality of them is very poor.
Spyderco Roadie 28.8g 80$
An ugly little knife designed to meet a proposed TSA relaxation on pocket knives on planes. That didn't happen but the roadie came to market anyway. Its light, tough, and due to its length, lack of a sharp point, and non-locking spring, its a fantastic choice for anywhere with tight restrictions. Its pretty well legal the world over unless any carry of any sharp object is forbidden. The large divot makes it easy to open even for people who traditionally struggle with nail nicks, and choil area of blade provides good control. No pocket clip, but does have a hole for a lanyard. It would even work to wear on a neck cord.
Opinel #6SS 28g 15$
The #6 opinel is the smallest that has a lock, the smaller knives rely on fiction. thin, cheap, very slicey, and once sharpened, hold a very great edge. Due to the wood handles often they need a little "tuning up" by carefully drying the handle in the sun or by some other method, then either soaking the handle in linseed oil or melted beeswax. This prevents the blade from sticking when the humidity is high. The low cost means a little more work, but also makes it great to customize. The lightest and cheapest knife on the list.
Opinel #7C arbone 33.2g 20$
Very similar to the number six, aprox 1cm longer. a good general size. carbon steel, so it sharpens easier, but needs more care.
Opinel knives also come in a kids version with a rounded tip. And all sizes come in either carbon (carbone) or stainless (Inox) And some versions have plastic handles. Of course price reflects features.
Svord Mini Peasant 43.9g 30$
Simple, large blade, and very inexpensive. This can lead to a rough and rustic look. High carbon steel which does need some care, but a knife that can take some punishment. Non-locking friction design means it should be secured in a slip sheath or some other way to prevent injury in pockets.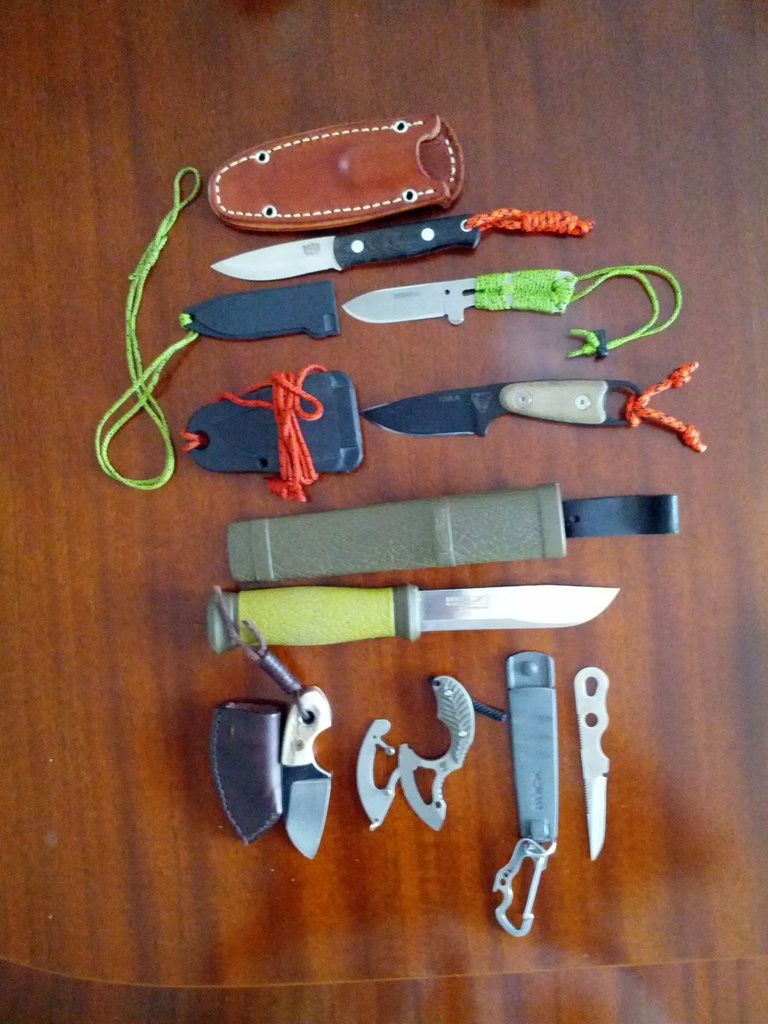 Fixed Blades:
Bark river Mini Bushcrafter 96g 250$
The high end for this review. Very high quality fit and finish, ergonomics, and steel. This is the over-kill end of the spectrum for sure. Small handle would make it tough for those with anything more than small hands, but it really feels like it can handle anything a bigger knife can take. The simple slip sheath does take some care, other sheaths are available though.
KaBar/Becker BK13 47.3g 55$
Light enough to carry everywhere, tough enough to handle anything. This little thing really punches above its weight, and price. Skeleton handles are not the best for long use, so wrapping with some cord helps a bit, but if its weight you are after, this one is high on the list.
ESEE Izula 106.4g 100$ handle slabs sold separately 25$
In this case a large part of the weight comes from the handle slabs (micarta is heavy!) but its another tough little beast of a knife, In fact ESEE has a no questions asked warranty, so there is piece of mind if you do break it. A lighter option is to do a cord wrap on the handle, paracord, leather, or whatever you want really. Be warned that there are a lot of chinese fakes on the market, so buyer beware. They are fairly easy to spot by the wording of the ad, but be careful with used ones if you don't know where it came from.
Mora 2K 138.4g 40$
The official survival knife of the Swedish armed forces. This one in particular is a really tough big knife at a surprising weight. Other moras are lighter, but just as tough and cheap. pick either stainless or carbon as your preference. great option for those who don't really sharpen as they are razors out of the box, and can be sharpened very easily with just a bit of sand paper and a flat surface. The 2k is a bit more technical I guess you could say, but provides a tough woodwork section with a thinner food prep tip.
Boker gnome 68.21g 60$
Interesting little knife, not bad for a little carrot chopping but generally not much more than that. generally features g10 or micarta scales.
CRKT Keydashi 32.59g 35$
A weird one. Sheath is a steel plate that secures to the blade by a spring action. Blade cutout means its a bit of a pain to clean if cutting soft foods, such as salami or cheese. I'll give this one a run for its money and report back. As its been discontinued it might start to show up cheap (or mine might go cheap) we shall see. I'm thinking the unusual blade shape might make it good as a food prep knife for kids, as its pretty small, there is no sharp point, and your fingers don't get pinched under the handle. Downside is that its small side will make it tough for cutting large veggies.
Buck Smidgen 30.6g 25$
Mostly cutting edge, so not much for a handle. Sheath has a button that locks into the handle, which works mostly, but under very hot conditions the plastic can become soft enough to let the blade fall if shaken hard. Another one that is knocked off alot, so be careful and look for legit sellers.
From this list my top picks are Multi: Vic Huntsman due to utility and value, Folder: Opinel #6Inox due to weight and price, Fixed: Kabar Becker BK13 due to toughness, price, overall utility.