In two previous posts, I have described nesting crackpot backpacking pots from cheap food storage containers.
https://bushwalk.com/forum/viewtopic.php?f=53&t=37122
https://bushwalk.com/forum/viewtopic.php?f=53&t=37274
Examples of these lidless pots are shown in the photo below.
This post is about cheap and light DIY or makeshift lids that can be efficiently carried on or under multiple nested pots without compromising the efficient nesting while backpacking.
Foil lids.
The lightest lids can be made from used (or new) tart trays and a lip can be made around the perimeter by forming it up on the bottom of the pot on which it is to fit.
The photo above shows the foil lid sitting on the bottom of its pot. This is the position that I carry the lid in while backpacking. When forming the lip on the lid I press the pot down on the circle of tart tray foil and form the lip by crimping it with a bread & butter knife or a metal spatula.
The lid shown has multiple experimental stainless steel foil lay-flat or removable handles that can be used from both sides. They have been fitted with the use of micro-welding that will not be available to many MYOGers. However, acetic cure RTV silicone rubber can be used to easily attach silicone impregnated cotton cloth or metal foil lay-flat handles as a very effective alternative.
https://timtinker.com/silicone-rubber-for-ultralight-backpacking-gear2/
The fragile lids are easily mangled but are equally easy to reform. The mangled lid in the photo below is the same one shown in the photo above (after re-formation on the pot).
Also, the foil lid can be made with a deeper lip after rolling and folding the outer edge and these can be used as a bain-marie.
Opportunity shop sponge pans.
Small sponge pans make excellent lids for large lid-less pots. They are even better if you like shallow fried food such as pancakes and falafels. They are cheap and plentiful in opportunity shops and can be used in conjunction with the foil lids with multiple nested pots and make a strong and secure final cover for a kit of nested pots. They can also be used as a bain-marie to hold food hot on top of another heated pot.
The much used and beaten up sponge tray (bottom left, in the photo below) makes an excellent lid for a large 2L dinner pot. It holds the smaller pots and stove & parts safe and secure while backpacking.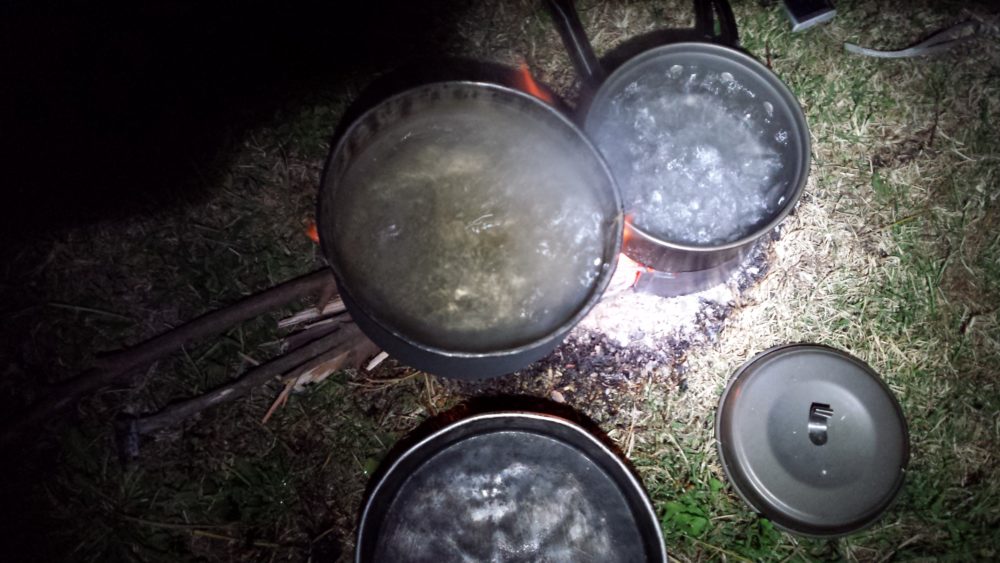 Opportunity shop biscuit tin lids.
Biscuit or toffee tin lids that come in many sizes can make a strong and light pot lid that can also double as a frying pan that is excellent for making pancakes. "Luckily, the plain and unembossed lids are the best and the collectors don't want them!"
The photos below show a biscuit tin and a foil lid for two makeshift pots that don't normally have lids. Not a single item was originally designed for cooking or backpacking. The smaller pot fits the other pot. The smaller pot has room for a blower stove, alcohol stove, tent stove, and all parts, including the stove pipe. The whole kit can be securely covered by the biscuit tin lid while backpacking. More nesting pots and foil lids can be added as required.
The paint and tin plating can be burnt and then washed off. Then cooking oil can be baked on to make a durable and light pot lid and a great indestructible non-stick frying pan.
For more details on lids for crackpots, please see:
https://timtinker.com/part-3-lids-for-light-cooking-gear/
Tim